Social Listening Snapshot
A social listening snapshot uncovers key metrics to build an overview of your campus's online conversation and offers actionable recommendations for using this data.
See How Social Listening Relates to Your Campus
Our Basic Social Listening Snapshot is ideal for campus professionals looking to explore the capabilities of social listening and its specific relevance to your campus. Our Advanced Social Listening Snapshot offers a deeper understanding of the conversation and sentiment surrounding your campus, for those looking to ensure marketing, enrollment, and fundraising campaigns are deployed effectively and optimized to reach your target audiences.
Your Online Conversation Over Time
Your campus's conversation volume tells you the number of times your campus is mentioned in public, online conversation, even if you're not tagged. We show you how your campus compares to like-sized institutions and identify notable lulls or spikes and what likely caused them.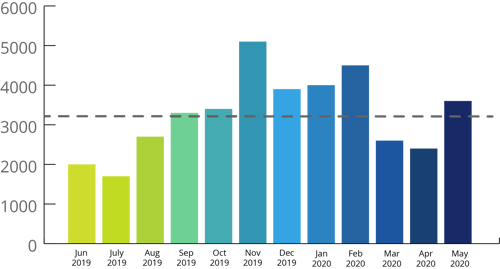 We know from experience that compared to similar-sized campuses, this overall volume is lower than expected, exposing opportunities to increase both owned (content from) and earned (content about) content. And the spike in November was associated with overlapping athletic seasons.
Who Talks About Your Campus
Categorizing your campus's conversation by owned and earned gives you a percentage breakdown of where your conversation originates from. Campuses with a balanced online conversation have about one-quarter to one-third owned conversation.
Owned vs. Earned Mentions Over Time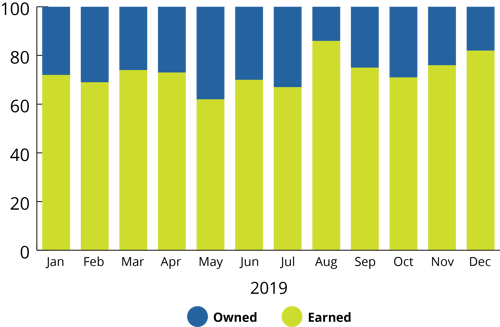 This example shows a consistent ratio of 1:4 between owned and earned conversation. Owned conversation can be increased with strategies like more shareable content or inviting more replies; earned conversation can be increased by encouraging your community to authentically talk about you.
What People Say
We also analyze what your campus audiences are talking about. We identify top recurring phrases, hashtags, and more and determine if they're trending or fading in your conversation to help you develop engagement strategies and make the most of popular mentions. Real-time alerts from highly influential topics or hashtags can help your campus communications team quickly engage with prominent mentions.
Recurring Phrases from a Basic Snapshot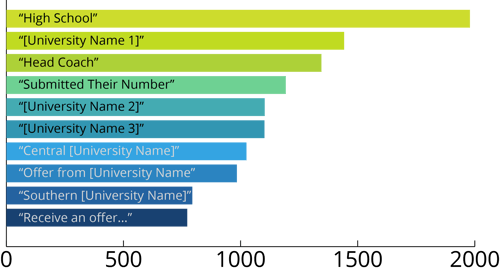 A Basic Snapshot pulls out top phrases and hashtags, like this example showing a campus conversation dominated by athletics conversation. With an Advanced Snapshot, we dig deeper, segmenting out athletics vs. non-athletics, current students vs. alumni, and more, depending on your goals.
"The advanced snapshot gave us so much robust data, which validated what we were seeing in terms of social monitoring, social engagement, and the overall strength of the Butler brand. However, the snapshot also gave us listening insights beyond the typical social media monitoring and engagement performance data that we traditionally relied upon. Through the social listening data captured, the Campus Sonar team helped us identify opportunities to further bolster Butler's brand equity. And that gave our team the direction needed to seize those opportunities, and whet our collective appetite for more social listening capabilities at Butler." Michael Kaltenmark, Director, External Relations, Butler University
Snapshot period of one year.

Conversation overview from blogs, news forums, social media, and Twitter mentions.
Key metrics that provide a baseline overview of your conversation.
An online consultation with a Strategist to walk through your report.
Snapshot period of up to three years.

Conversation overview from all of the Basic snapshot sources.
Detailed key metrics that also incorporate trends over time.
Conversation analysis to identify lulls, spikes, and opportunities for action.
A brand perception analysis that evaluates sentiment and emotion toward your campus.
An executive summary of strategic insights and opportunities for action.
A roadmap with suggestions and actionable insights
A final online consultation with a Strategist to walk through your report and recommendations.
Request More Information
Get answers to some of the most common questions we've gotten about our Social Listening Snapshot services, and see some supporting data points.
service
Social Listening Snapshot
1-Year of Conversation Analysis
If you sign a contract with Campus Sonar within six months, the $1,000 will be applied to your project fee as a credit.
Contact Us For a Quote
Advanced
Starting at $12,500/contract
A standard Advanced Snapshot includes two years of analysis, inclusion of athletics, alumni and admissions audience analysis, and comparisons to conversation benchmarks.
Contact Us For A Quote