Social Listening Snapshot
See How Social Listening Relates to Your Campus
A social listening snapshot uncovers key metrics to build an overview of your campus's online conversation and offers actionable recommendations for using this data.
Our Basic Social Listening Snapshot is ideal for campus professionals looking to explore the capabilities of social listening and its specific relevance to your campus. Our Advanced Social Listening Snapshot offers a deeper understanding of the conversation and sentiment surrounding your campus, for those looking to ensure marketing, enrollment, and fundraising campaigns are deployed effectively and optimized to reach your target audiences.
Snapshots in Action
Your Online Conversation Over Time
Your campus's conversation volume tells you the number of times your campus is mentioned in public, online conversation, even if you're not tagged. We show you how your campus compares to like-sized institutions and identify notable lulls or spikes and what likely caused them.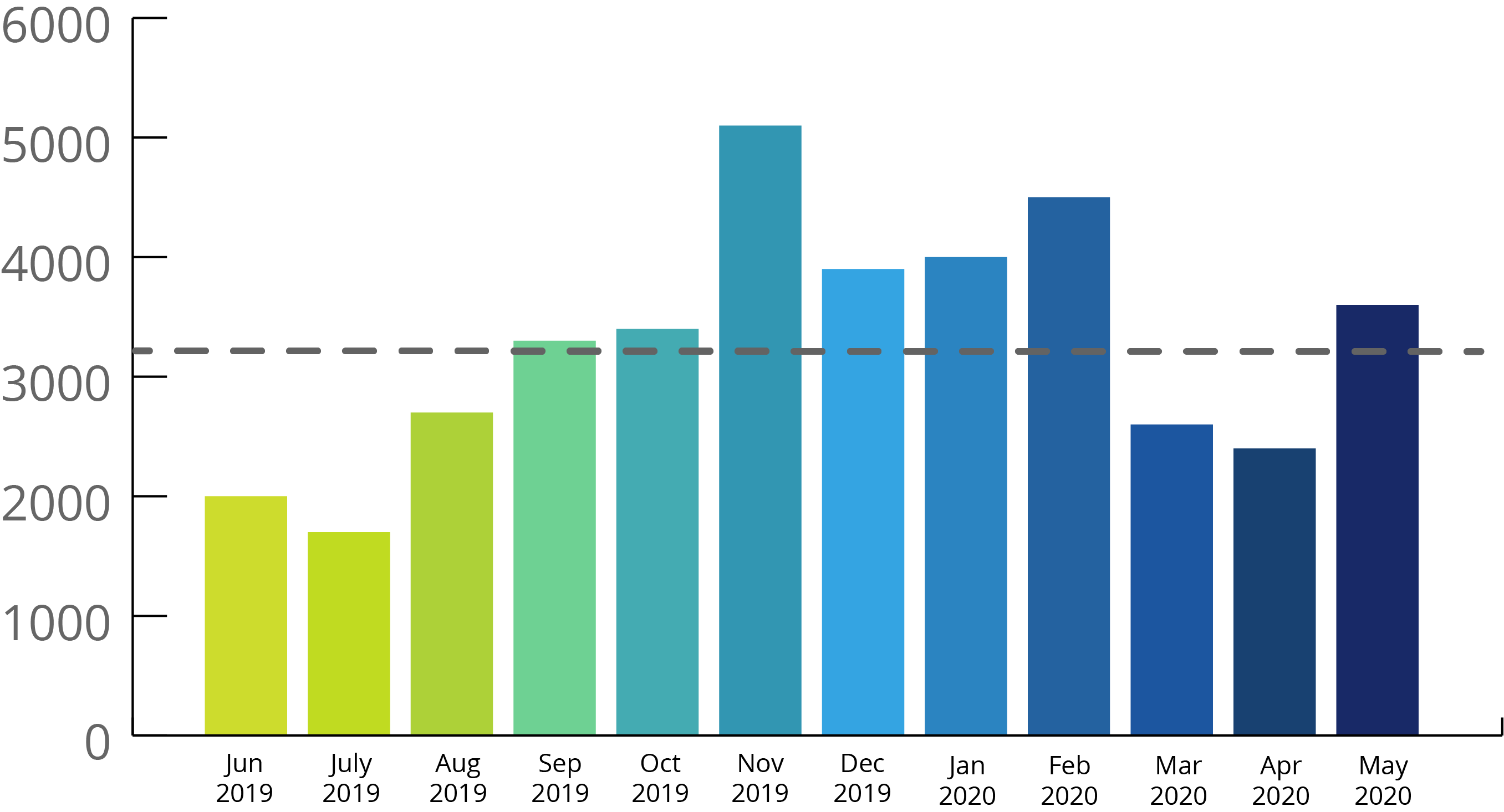 We know from experience that compared to similar-sized campuses, this overall volume is lower than expected, exposing opportunities to increase both owned (content from) and earned (content about) content. And the spike in November was associated with overlapping athletic seasons.
Who Talks About Your Campus
Categorizing your campus's conversation by owned and earned gives you a percentage breakdown of where your conversation originates from. Campuses with a balanced online conversation have about one-quarter to one-third owned conversation.
Owned vs. Earned Mentions Over Time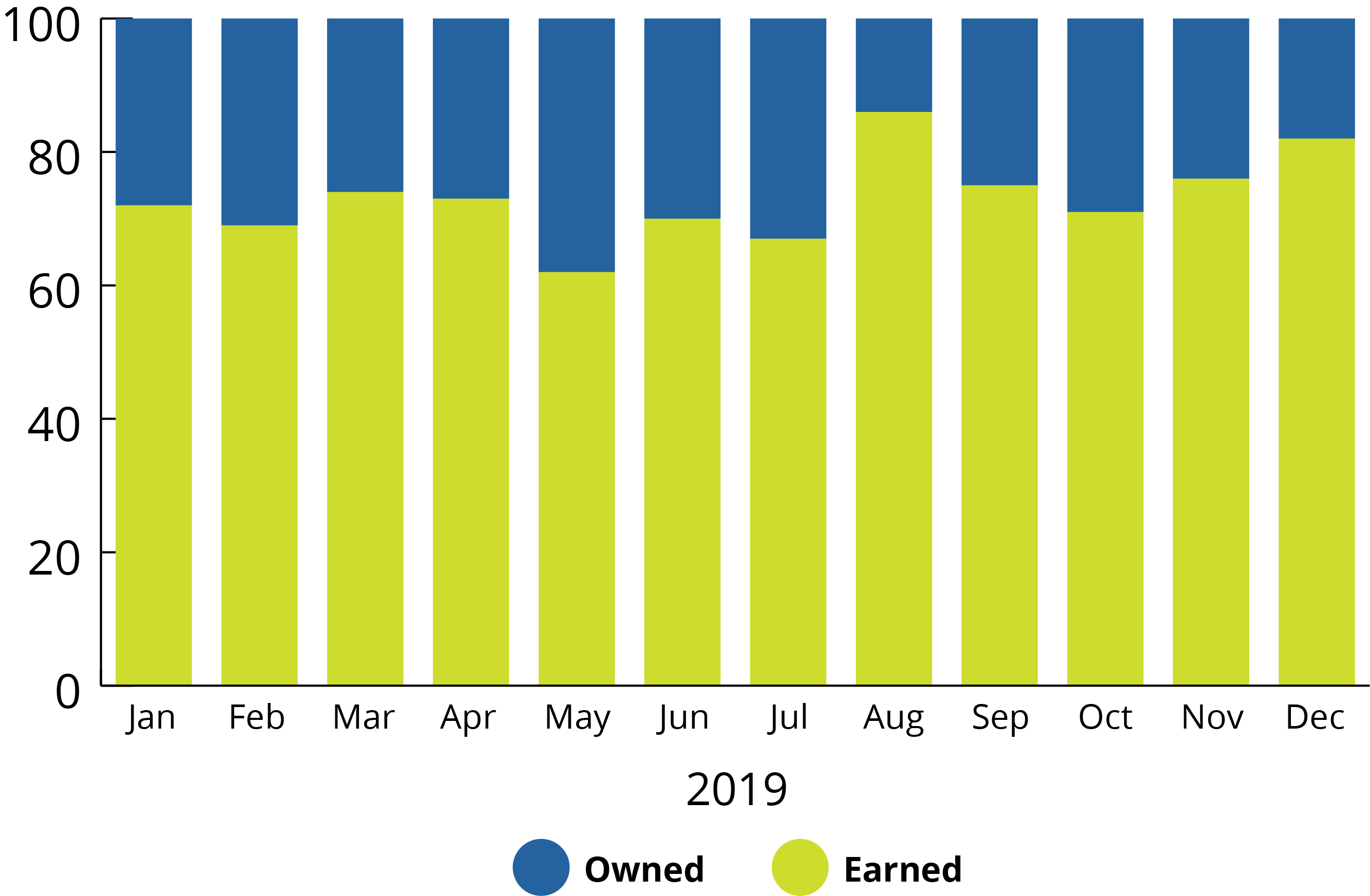 This example shows a consistent ratio of 1:4 between owned and earned conversation. Owned conversation can be increased with strategies like more shareable content or inviting more replies; earned conversation can be increased by encouraging your community to authentically talk about you.
What People Say
We also analyze what your campus audiences are talking about. We identify top recurring phrases, hashtags, and more and determine if they're trending or fading in your conversation to help you develop engagement strategies and make the most of popular mentions. Real-time alerts from highly influential topics or hashtags can help your campus communications team quickly engage with prominent mentions.
Recurring Phrases from a Basic Snapshot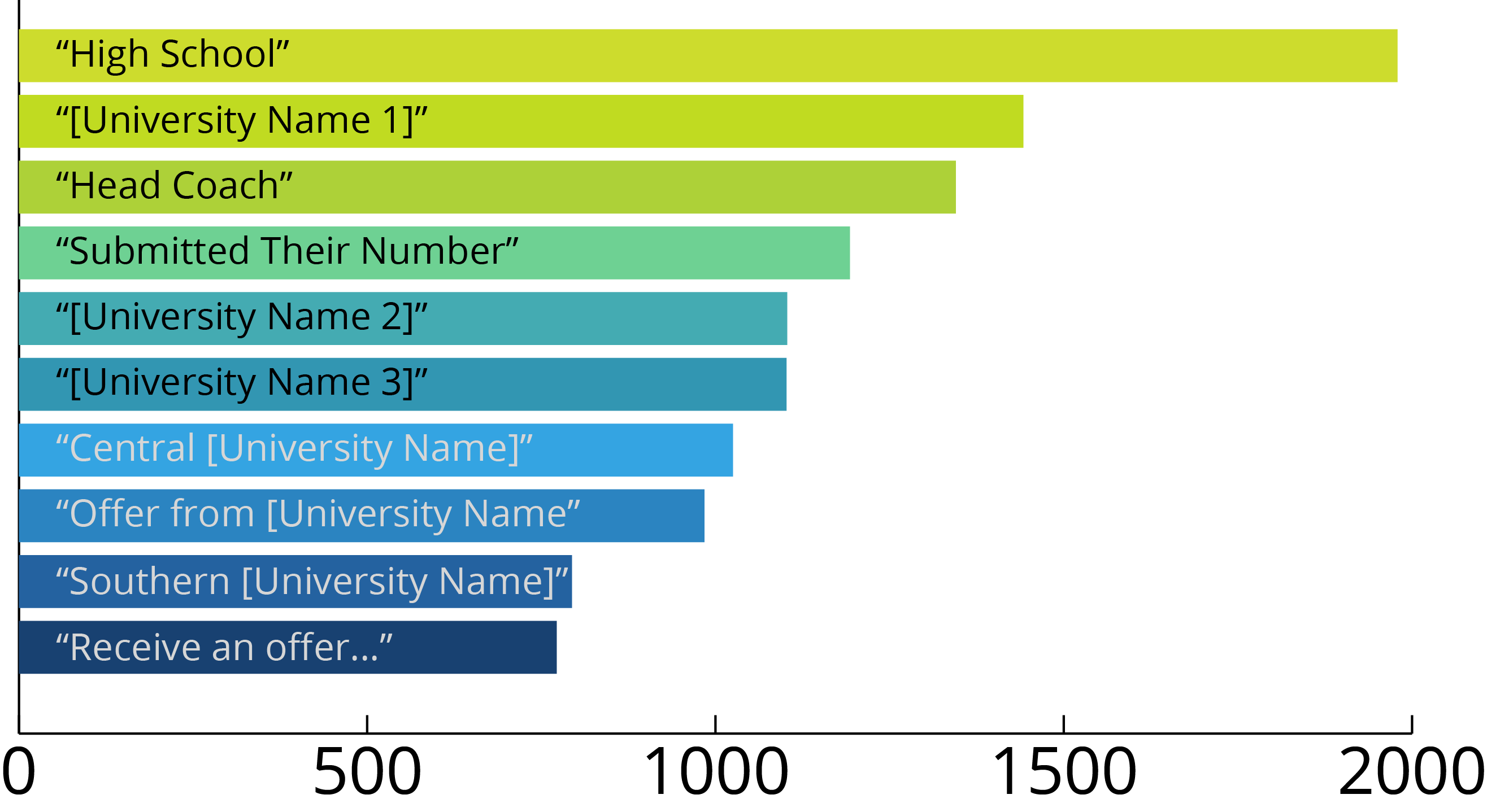 A Basic Snapshot pulls out top phrases and hashtags, like this example showing a campus conversation dominated by athletics conversation. With an Advanced Snapshot, we dig deeper, segmenting out athletics vs. non-athletics, current students vs. alumni, and more, depending on your goals.
Who Influences the Conversation
Individual online authors can have a big impact on your campus's online conversation, whether by sheer volume or influence. We identify the most active and influential people in your Twitter conversation, and provide insights to help your campus develop a communication plan and harness engagement so you can more strategically promote your campus.
This example is from a Basic Snapshot for a public graduate school. We identified that some new, younger faculty were savvy on social, and partnering with them would help both the campus's marketing efforts and the individual's development of their online professional reputation.
"The Social Listening Snapshot gave us so much to think about! Campus Sonar has really opened our eyes to new opportunities, especially on Twitter and Reddit. (And I have already connected with our featured influencer from the snapshot presentation!) Based on what was shared, I hope that we're able to engage more with prospective students—perhaps with the help of faculty or current students—through these various channels. I know I personally will refer back to the snapshot again and again in the future. I would highly recommend this service to any higher ed colleagues who are looking to dip their toes into the social listening pool."
—Danielle Legare, Assistant Director of Enrollment Communications, Graduate School of Education, University at Buffalo
Basic
Snapshot period of one year.
Conversation overview from blogs, news forums, social media, and Twitter mentions.
Key metrics that provide a baseline overview of your conversation.
An online consultation with a Strategist to walk through your report.
Advanced
Snapshot period of up to three years.
Conversation overview from all of the Basic snapshot sources.
Detailed key metrics that also incorporate trends over time.
Conversation analysis to identify lulls, spikes, and opportunities for action.
A brand perception analysis that evaluates sentiment and emotion toward your campus.
An executive summary of strategic insights and opportunities for action.
A roadmap with suggestions and actionable insights
A final online consultation with a Strategist to walk through your report and recommendations.
Request More Information
Get answers to some of the most common questions we've gotten about our Social Listening Snapshot services, and see some supporting data points.