The Campus Sonar team loves digging through and analyzing data, and finding solutions that make our clients happy. They combine new technologies and tools with proven methods to drive results. They thrive on finding nuggets of information that open the door to something bigger. This is Campus Sonar.
Dr. Liz Gross (she/her)
Founder and CEO
Liz specializes in creating entrepreneurial social media strategies in higher education and has a passion for empowering others, which she brings to colleges and universities as the founder and CEO of Campus Sonar.
Liz is an award-winning speaker, author, and strategist who was named a 2018 Mover and Shaker by Social Shake-Up Show and a finalist on GreenBook's 2019 GRIT Future List. She has delivered top-rated talks at SXSW, SXSW EDU, the American Marketing Association Symposium, the Carnegie Conference, the Council for the Advancement and Support of Education, and others; and is the author of two indispensable guides for higher ed: The Higher Ed Social Listening Handbook and Fundamentals of Social Media Strategy: A Guide for College Campuses.
Liz has more than 15 years' experience in higher education, spanning the private and public sector (including the University of Wisconsin campuses in Milwaukee and Waukesha). Since 2013, she's focused on driving social listening forward as a source of business intelligence in higher education. She received a Ph.D. in Leadership for the Advancement of Learning and Service in Higher Education at Cardinal Stritch University, a master's degree in educational policy and leadership from Marquette University, and a bachelor's degree in interpersonal communication from the University of Wisconsin-Stevens Point.
Business Development Team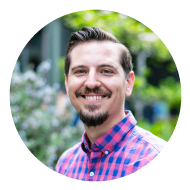 Steve App (he/him)
Business Development Manager
A natural marketer and relationship builder, Steve has spent more than ten years in higher education, in both campus and agency environments. In the past five years, Steve successfully launched a student-blogging platform, an agency podcast, and a higher education online magazine, all with a mission to bring people together through content. At Campus Sonar, Steve leads the business development efforts, working with campus professionals to identify appropriate social listening programs that will help meet strategic institutional goals. An amateur runner and professional donut connoisseur, you can often find him on Twitter posting Seinfeld gifs.
Rebecca Stapley (She/Her)
Strategist
Rebecca has spent more than nine years in higher education enrollment and marketing, honing her skills and passion for delivering results driven strategy that aligns with institutional goals and values. While on campus, Rebecca piloted a student blog targeted towards prospective students and managed a team of student content creators who added their authentic voice to help tell the college story. She also served as strategist and project manager for the college's Giving Day and launched a new strategic partnership between alumni and marketing focused on social media. Rebecca holds a Master's Degree in Integrative Marketing and Communications and is a noted public speaker who has presented at various higher education conferences. Outside of her day job, Rebecca is a yoga teacher and loves spending time in nature with her husband and their dogs, Gus and Ella.
Dr. Katlin Swisher (She/Her)
Strategist
Katlin is dedicated to using data and storytelling to help campuses build trust with their audiences, support strategic planning and branding efforts, and inform organizational change. During her decade of on-campus experience, she led initiatives and programming in enrollment management, orientation and transition, and marketing communications. She holds a Doctor of Philosophy and Master of Arts in higher education administration and a Bachelor of Science in journalism. She also teaches media and leadership studies and has presented research at numerous national conferences. In her spare time, you can find her hiking in West Virginia's beautiful state parks and traveling the world as a clarinetist with the West Virginia University Alumni Band.
Amber Sandall (she/her)
Research Manager
Amber finds meaning as an analyst, coach, collaborator, and leader. As a part of Campus Sonar's leadership team, she helps bring the agency's vision to life by conceptualizing, implementing, and refining social listening as a research method. Amber works closely with her colleagues to understand what is important to higher education executives, staff, students, enrollment audiences, and alumni to ensure that every step of the Campus Sonar social listening process is built with an awareness of the nuances unique to higher education. When she's not thinking about how to provide additional value through partnerships or research projects, Amber enjoys a good taco, a new book, and a walk with her doggo. She holds a Masters in Business Administration, with a certificate in entrepreneurship, from the University of Wisconsin– Madison.
Sarah Marks (She/Her)
Social Media Data Analyst
Sarah graduated from the University of Michigan, concentrating in Cognitive Science and Marketing. (Go Blue!) Sarah is fascinated with the underlying influences impacting human behavior and how social listening can be leveraged to enact positive change on college campuses. She also loves discussing and discovering new podcasts, running, and is your go-to for the best finds at Trader Joe's!
Agassy Rodriguez (he/him)
Social Media Data Analyst
A defender of the Oxford comma, Agassy is interested in how technology and data can be used to support the missions of institutions and improve public trust in higher education. During his time working in higher ed, Agassy designed and led assessment efforts and developed engagement programs for students. When he's not running boolean queries, Agassy loves spending time with his partner, chasing after his dog and cat, hiking, or playing video games.
Darron Bunt (She/Her)
Social Media Data Analyst
Darron's background includes stops in non-profits, sport, and higher education, and at each stage of her career she strives to use research and analysis to inform recommendations and facilitate positive change. When Darron isn't busy being a huge data nerd, you'll find her lifting heavy things, getting lost in the woods, and making memories with her family.
Bri Krantz (She/Her)
Marketing Manager
With a passion for connecting dots and creating meaningful strategy, Bri has spent the last near decade in various marketing and communications positions, mostly focused in higher education. As part of Campus Sonar's marketing team, she works closely with all facets of the business, striving to understand what our audiences want and to meet them on their journey. In her spare time, Bri enjoys yoga and hanging out with her cat, which are not always separate endeavors.
Loren Branch (he/him)
Demand Generation Strategist
With five years of experience in higher education marketing and communications, Loren brings well-rounded experience in both academics and student affairs with an unrelenting empathy for on-campus staff. At Campus Sonar, he utilizes inbound strategies to help our audiences see the connection between their pain points and our solutions. Between playing with his Goldendoodle and enjoying TV and film, you'll catch Loren collecting Funko Pops, looking for his next concert ticket, and connecting with community.
Michelle Mulder (She/Her)
Content Strategist
Michelle builds, manages, and creates content that aligns with the Campus Sonar brand. Michelle works with the entire team to understand our audiences' needs and provide content to help them make an informed decision. With more than ten years of higher education experience and 20 in educational publishing, Michelle enjoys the ongoing learning environment of Campus Sonar. In her spare time she gets a break from her college student son and two high school daughters by reading, going to barre class, and catching up on movies and TV shows with her husband.
Gillian Drier (She/Her)
Visual Designer
Gillian is a designer and painter with a love of color, the doodles in the margins, and unconventional creative solutions! Gillian received her Bachelor's Degree in Fine Art from the University of Wisconsin–Madison with an emphasis in Graphic Design. Gillian has worked in, and created design in a variety of different settings across the Midwest, from youth programming, to a human resources start-up, to a healthcare non-profit, and more. When she's not in the office, she can be found tending to her houseplants, playing video games, and playing tennis.