Want to Be a Sonarian?
Do you have what it takes to be part of a forward-thinking, specialized social listening agency for higher education?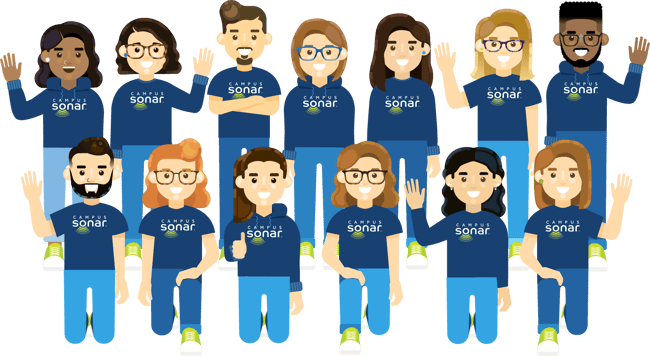 In addition to being a bunch of expert nerds, Sonarians are:
Geek but chic (analytical)
Optimistic
Intrinsically motivated
Witty
Engaging
Listeners
Modern but rooted (tech + results)
Learn more about our team and see if you're up to the challenge!
We hire based on business need and growth and openings will be posted as they're available. If you think you're a fit for our team, we'd love to hear from you.
Interested candidates are encouraged to reach out at any time.
For Business Development and Marketing inquiries, please contact Liz Gross.
For Client Services inquiries, please contact Amber Sandall.

Follow us to learn more about life as a #Sonarian.
Current Opening
Campus Partnerships Associate
Campus Sonar, a strategic partner that builds audience-centric organizations, is seeking a Campus Partnerships Associate to match our services to client needs through sales of single and multi-year partnerships. This position will report directly to the CEO, who is leading sales for the organization during a period of growth and strategic transition.
The key focus for this position will be sourcing, qualifying, and selling new partnerships with campus leaders in marketing, admissions, advancement, and the senior cabinet/president's office. After an approximately 3-month onboarding period, the majority of your time will be spent in conversation with prospective clients, researching their needs, coordinating connections with internal experts, developing collaborative proposals, negotiating contracts, and working with our Client Services team to ensure a successful new client onboarding experience.
Applicants should have previous experience working in the higher education industry in a role directly tied to revenue targets (e.g., sales, admissions, fundraising or have extensive experience as a partnership account executive in higher education companies). Experience working with a customer relationship management (CRM) tool is highly desirable. Applicants are encouraged to contact the hiring manager (Liz Gross) directly with questions related to the role or fit, the company, or the culture after reviewing our website.
Regardless of applicant location, this will be a work-from-home position with required business travel. Campus Sonar's parent company is located in Madison, WI. All employees travel to Madison twice yearly for all-company meetings (pending pandemic-related travel protocols), and employees who live in or near Madison have opportunities to use our corporate headquarters as a drop-in workspace.
This is a salaried position (no commission component). Starting salary for this position is $75,000–$85,000 based on experience. Campus Sonar offers annual opportunities for career progression in both title and salary.
For more information and full application instructions, please see the full posting. Applications will be accepted until the position is filled.
Apply Today
Submit an application to Ascendium Education Group and learn more about our competitive benefits package (includes paid parental leave, volunteer time off, student loan repayment, 401K, and more). Candidates are strongly encouraged to upload a Word document or PDF that includes a cover letter and resume in addition to filling out the required electronic application.
Campus Sonar is headquartered in Madison, WI. Regardless of applicant location, this will be a work-from-home position.