Optimize Your Social Strategy
Rally a group of marketers, communicators, and enthusiasts around a strategic approach to higher ed social media. We've trained hundreds of higher ed pros using this workshop at events like the CASE Social Media & Community Conference and CASE Summer Institute. Schedule this valuable and actionable workshop for you and/or your team today.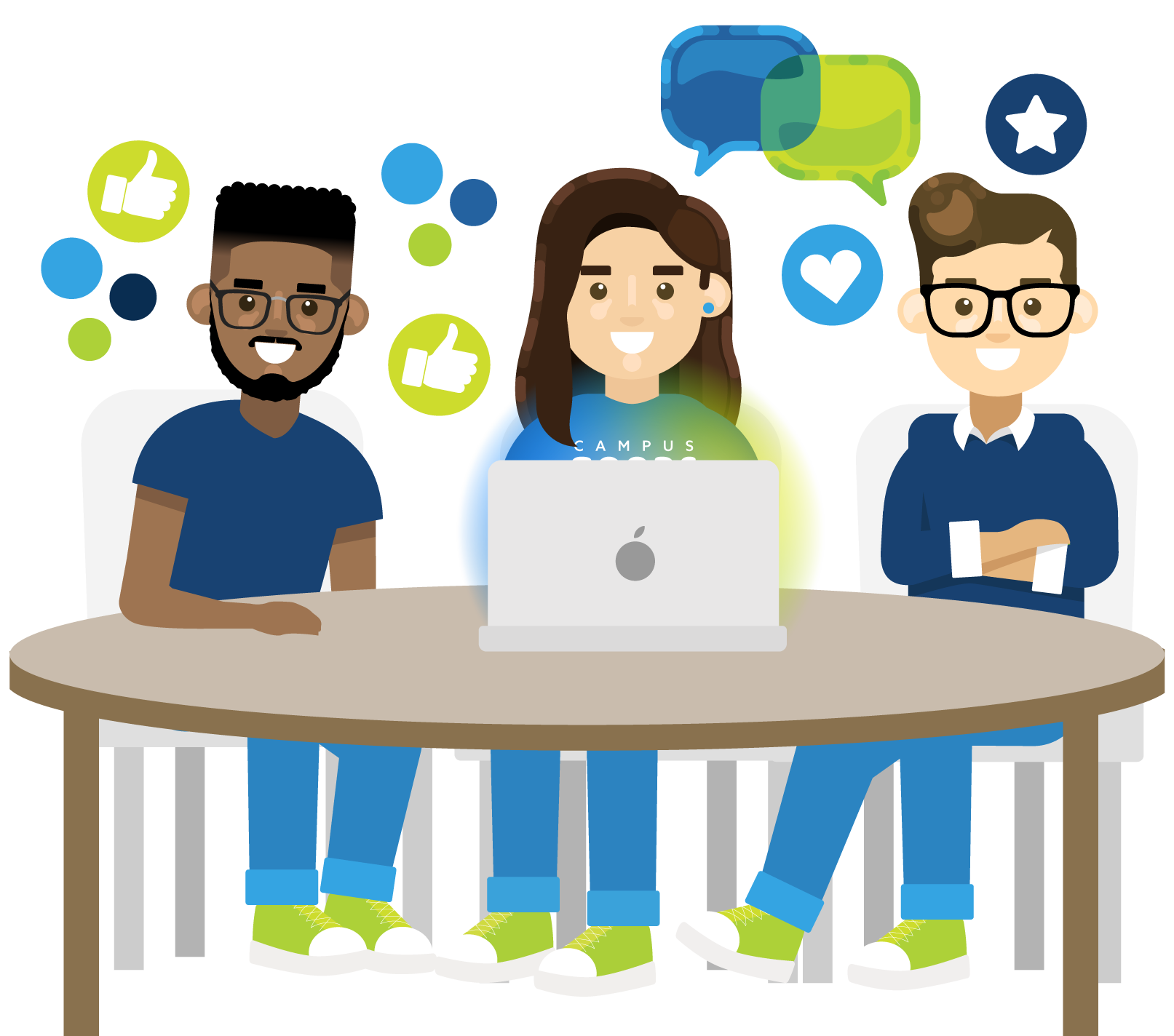 Transform Your Team with an Onsite Workshop
Our signature workshop expands on the strategy, research, and best practices in our popular book Fundamentals of Social Media Strategy to offer professional development, real campus strategy, and best practices.
The one day workshop helps you develop a common baseline for talking about social media strategy with your team and campus stakeholders. It's a step-by-step guide to creating a successful strategy, including aligning goals, finding your voice, developing sustainable content creation and curation procedures, creating guidelines and policies, and measuring your effectiveness. Practitioners and those who oversee them will leave with a draft of a social media playbook to use immediately.
What you get with the workshop
8 hours of in person learning, strategizing, and planning to meet your campus's unique goals

Dedicated time of 1-2 industry experts who provide insights into what makes social media so nuanced and fundamental on campus

Workbook and d

igital copy of Fundamentals of Social Media Strategy: A Guide to College Campuses for each participant

Access to a library of on-demand resources

Professional development and networking opportunities



What the workshop helps you do
Develop a strategy-focused team that concentrates on overall goals and purpose rather than individual tactics

Increase your team's capacity with skills and resources to do their work more effectively and efficiently

Maximize cross-campus collaboration to ensure overall goal alignment

Build team relationships around a shared foundation of knowledge and collaboration
"This workshop is time well spent. An entire day is a big commitment, but the practical knowledge you gain definitely justifies making time for the workshop."
Sara S. Communications Specialist, Rosalind Franklin University of Medicine and Science
This workshop primarily focuses on social media, but the learning outcomes go far beyond knowing how to use social media to its full potential. More importantly it sheds light on how it truly takes a village to make good content. Liz has such a warm, welcoming, and down-to-earth personality—her expertise is inspiring! Sabreen A., Digital Communications Specialist, Rosalind Franklin University of Medicine and Science
"This session alone would have made participating in the conference worth it!" This is what an attendee at CASE's (Council of Advancement and Support of Education) 2016 Social Media and Community conference had to say about Liz's presentation. She knows her content, interacts extremely well with attendees and working with her is simply a good experience. Liz is responsive, detail-oriented and a joy to be around—and as a speaker, attendees appreciate her perspective, genuineness, and knowledge. I look forward to the opportunity to work with Liz again. Sara Lerma Jones, Former Educational Programs Manager for CASE
Liz is a constant wealth of knowledge on higher ed trends making her a natural fit to speak to our group. Data can be overwhelming to process. How do we synthesize information to determine the best steps forward? Members—from seasoned communications pro or industry newbie—were offered resources and support that helped illuminate on every level. I highly recommend Liz as a dynamic and informative speaker. Sophie McNeil Wolf, Past President, College Public Relations Association of Mississippi
I am so grateful to Liz Gross for speaking to my group of state agency communication officers. Liz's expertise in social listening and reporting partnered with her superb delivery were extremely well received by the group. Several participants commented afterwards on how helpful her sessions were and what a difference they have made on their approaches. Annahita Jimmerson, Strategic Communications Director, State Higher Education Executive Officers Association (SHEEO)
Tell us what you want to learn!