Publications
All of our publications are free and created by our team and colleagues in higher ed to help the industry understand the power of social listening by sharing real examples of what it is and how to use it.
Fundamentals of Social Media Strategy: A Guide for College Campuses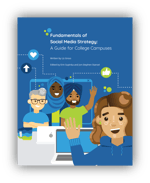 Everything you need to know to about a higher ed social media program, including current updates on everything Liz and the Sonarians have learned since starting Campus Sonar.

Social Listening
Cheat Sheet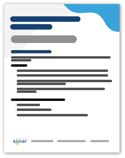 Try social listening with our analysts' curated list of tips. It's beginner-friendly and complete with some free social listening tool recommendations.
Social Listening in Higher Ed: The College Admissions Journey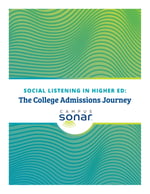 Research and companion guide that examine online conversation of prospective and admitted students to help you evaluate and improve your strategies.

The Higher Ed Social Listening Handbook: Your Go-to Resource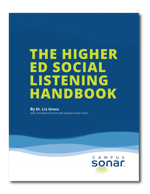 Your guide for implementing social listening strategy, including what social listening is, why it matters, how to use it, a strategic model, and more.
2019 Online Conversation Benchmarks for Higher Education
A report with data you can use to define your online conversation, conversation volume, and branded content based on comparable institutions.

Social Listening
in Practice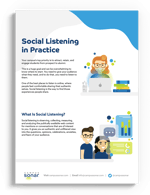 Explains how to use social listening for your campus goals, outlines our strategic approach, and shows examples applied to specific campus goals.
Using Social Listening for Customer Service
Details eight ways you can use social listening to promote customer service and engage your students by meeting them where they are.
Brain Waves Monthly Newsletter
Monthly information and insights to keep you on the pulse of social listening and higher education so you can develop a strategy and drive results.
Case Study: Spring Hill College

Spring Hill College wanted to better understand how others identify with their brand. We worked with them to understand their goals and priorities, and perform a 3-Year Conversation Trend analysis that revealed an existing brand attribute they could use to build their strategy.
Case Study: Beloit College



Beloit College wanted to re-invent themselves as a premier destination for the future. We partnered with them to use social listening to discover their brand and achieve the specific campus outcomes they could use to drive a purposeful brand management effort.
Case Study: Loyola Marymount University

Loyola Marymount University wanted to connect and engage with prospective students, identify and engage with influencers, and build a stronger presence. Our analysis dove deeply into their online conversations to reveal insights that their in-house analysis was missing.
Case Study: Cardinal Stritch University

The goal of Cardinal Stritch's social listening was to monitor their alumni conversation to increase connections and engagement. Through our analysis, we revealed several insights that led to multiple ongoing strategic efforts for Stritch's alumni and influencer engagement.