Bring Campus Sonar to you.
We Bring Knowledge and Passion
Hire a Sonarian to keynote or speak at your next event. Our speakers are experts who bring top-rated presentations to your campus, organization, or conference. We're available to speak in a variety of settings, including conference keynotes, breakout sessions, workshops, online events, on-campus professional development events, and more. All of our speakers:
Bring expertise from time spent working on and with campuses.

Offer

recent, relevant examples from higher education and other industries.

Provide inspiration to pursue innovative strategies.

Incorporate tools and tips attendees can implement immediately.
See where we've been and the types of sessions we've presented in the past to help determine what topic is the best fit for your audience. Already know what you need? Complete this interest form.
Develop Data Informed Strategies
A high-level overview of how social listening data supports your institution's goals in relation to crisis management, student and alumni engagement, brand and reputation management, audience research, and influencer identification.
Inform Your Strategic Decision-Making
Ten ways you can use social listening to inform and support your strategic decision-making. The session is a rapid-fire review of tactics to help people understand the depth and breadth of uses for social listening.
Use Students to Tell Your Campus Story
Influencer marketing can have strategic impact on key enrollment, fundraising, and branding outcomes. This session shares how to harness the power of peer influence on your campus.
Monitor and Manage a Crisis
Social listening allows you to effectively monitor and manage a crisis, including those that happen on social media. This session includes examples from a variety of institutions and tips for a crisis communication plan.
Compare Your Online Conversation to Current Trends
This session shares research from the Campus Sonar team that benchmarks various aspects of online conversation on college campuses and provides data you can use to compare your institution to current trends.
Create a Social Strategy for Campus Executives
Create Data-Informed Marketing Campaigns
Marketing and creative campaigns are more effective when they're based on real data from your institution. This session helps you find and use data to inform your brand strategy and messaging.
A step-by-step guide to creating a successful social media strategy, including aligning goals, developing a process, creating guidelines and policies, and measuring your effectiveness. Practitioners and those who oversee them will leave with a draft of a social media playbook to use immediately.
Use Research Analytics to Inform Campaigns
Using social media to push information out to your target audiences as part of informational or aspirational marketing campaigns makes them more impactful. Learn what social listening is, review key industry research, and learn tips on how to get started putting social listening to work for you.
Dr. Liz Gross
Founder and CEO
Liz is a recognized expert, data-driven marketer, and higher education researcher. Her presentation experience encompasses all types of speaking formats, including five+ years of online teaching experience. Liz specializes in creating entrepreneurial social media strategies in higher education and has a passion for teaching, which she brings to colleges and universities as the founder and CEO of Campus Sonar.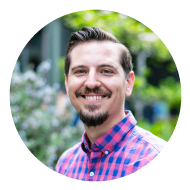 Steve App
Business Development Manager
Steve is a natural marketer, speaker, and relationship builder. He's successfully launched a student-blogging platform, an agency podcast, and a higher education online magazine, all with the mission of bringing people together through content. His podcasting experience translates well to online presentations and is comfortable with any type of speaking format. In leading Campus Sonar's business development efforts, Steve works with campuses to meet strategic institutional goals, and enjoys sharing his knowledge and expertise with the higher education community.
Beth Miller
Client Success Manager
Beth has more than 20 years of professional marketing and communications experience, spending the majority of her time in higher education. As Campus Sonar's Client Success Manager, she uses strategy and creativity to help clients apply insights gleaned from social listening data. Beth appreciates the chance to step outside of her comfort zone and share her expertise at higher ed marketing conferences and events.
Rebecca Stapley
Strategist
Rebecca has more than nine years of experience in higher education enrollment and marketing. Her expertise spans managing a student blog and content creators to organizing and leading giving day events to spearheading a partnership between alumni and marketing. As Campus Sonar's strategist, Rebecca brings her passion for delivering results-driven strategy that aligns with institutional goals and values. She is a noted public speaker who has presented online at various higher education conferences and loves creating the perfect presentation for each audience.
Amber Sandall
Research Manager
Amber manages Campus Sonar's social listening research program and team of Social Media Data Analysts. She and her team perform social listening research customized to each institution and collaborate with the Client Success team to unearth actionable insights that inform our campus partners' institutional goals. Her research expertise paired with her agency and higher education experience make her an ideal presenter for market research or higher education conferences and events.
Campus Sonar in Action
We're deeply committed to the higher education industry and to moving the industry forward. We fulfill our mission in part by speaking at conferences to share the strategic value social listening brings to campuses across the globe. As a side benefit, we continuously connect with colleagues and thought leaders, in an effort to build our network of higher ed friends and community relationships.
See how we've customized our sessions to share our message at recent conferences and events.
The College Communicators Association of Virginia and D.C. was delighted to have Liz Gross as our keynote speaker for our summer 2019 conference. Her presentation was identified by numerous attendees as the "most valuable session of the day." One noted, "The keynote was incredible! Her energy made the topic engaging and interesting." Our audience appreciated the research component of social listening, and many indicated they are interested in learning more about the topic after hearing her speak. Melissa Richards, Vice President for Communications and Marketing, Hamilton College
This session alone would have made participating in the conference worth it!' This is what an attendee at CASE (Council of Advancement and Support of Education)'s 2016 Social Media and Community conference had to say about Liz's presentation. She knows her content, interacts extremely well with attendees and working with her is simply a good experience. Liz is responsive, detail-oriented and a joy to be around—and as a speaker, attendees appreciate her perspective, genuineness, and knowledge. I look forward to the opportunity to work with Liz again. Sara Lerma Jones, Former Educational Programs Manager for CASE
We were lucky to have Steve App present at the 2020 CUPRAP Spring Conference. Steve is a poised, engaging, and incredibly informative speaker, offering fresh insights and connecting with his audience through and through. He gave a lively and very relevant presentation on the importance of Reddit in student recruitment. The data, examples, and recommendations Steve showed us were a winning combination. I can't recommend him as a speaker highly enough. Tom Durso, Director of Marketing and Communications, Drexel University College of Arts and Sciences
Liz Gross is a dynamic speaker! She gave a presentation to 300+ faculty that left them wanting more. Her expertise on the topic of faculty/student communication was relevant and thought provoking. Liz's presentation style was engaging and impactful. I highly recommend her for any group looking for information on communication in our digital era. Zina Haywood, Executive Vice President/Provost at Gateway Technical College
Liz Gross was a keynote speaker at Penn State's Social Media Summit in 2015. Her presentation was so well-received that her follow-up breakout session had to be moved back to the ballroom to accommodate all of the participants who wanted to hear more. She gave great insights and incredibly helpful tips for our university communicators. We could not have been more pleased being introduced to her and having the opportunity of working with her. Christie Clancy, Social Media Manager, Penn State
Send an Inquiry
Reach out to inquire about speaking topics, speaker availability, or to book an event.